CTS Copper Flange Adapter 300lb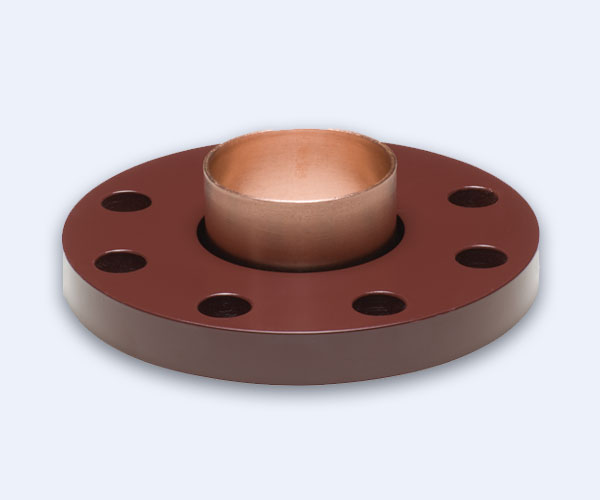 Submittal / Data Sheet
Specifications
SERVICE TEMPERATURE: -66F to +272F
DIMENSIONS OF SOLDER JOINT Manufatured to ASME B 16.22-95
Size
Code
Working Pressure
(at atmospheric)
Material
Thickness
1-1/2″
WBG3015
600 PSI
Plate Steel
.709
2″
WBG3020
600 PSI
Plate Steel
.787
2-1/2″
WBG3025
600 PSI
Plate Steel
.866
3″
WBG3030
600 PSI
Plate Steel
.0945
4″
WBG3040
600 PSI
Plate Steel
1.063
5″
WBG3050
600 PSI
Plate Steel
1.141
6″
WBG3060
600 PSI
Plate Steel
1.181
8″
WBG3080
600 PSI
Plate Steel
1.378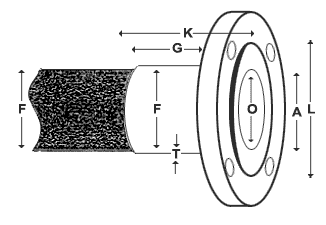 Size
Length
(K) Min
Female End
(F)
Depth (G)
Min
Thickness (T)
Min
ID (O)
Min
OD Cu Flange
(L) Min
Min
Max
1-1/2″
1.81
1.62
1.63
1.09
.051
1.47
3.10
2″
1.85
2.12
2.33
1.34
.059
1.94
3.70
2-1/2″
2.02
2.62
2.63
1.47
.067
2.42
4.20
3″
2.35
3.12
3.13
1.66
.075
2.89
5.00
4″
2.81
4.12
4.13
2.16
.096
3.84
6.20
5″
3.87
5.12
5.13
2.66
.111
4.70
7.30
6″
4.31
6.12
6.13
3.09
.124
5.72
8.40
8″
5.50
8.12
8.13
4.00
.875
8.80
13.50
Drilling to Match ANSI B 16.5
Features
Sizes 1-1/2″ thru 8″
Flanges shall be drilled to ANSI B 16.5.
300 Standard powder coated with a EPDM.
Insulator adhered to the plate steel flange.
Protruding inside of the steel flange to prevent contact with the Copper.
Companion Flange Adapter.
The Copper component of the flange adapter shall be manufactured to ASME B16.22 – 1995.